Unfortunately, this year's Series has been badly effected by adverse weather, resulting in cancellation of several races going into the last weekend, 29 Oct.
Turnout has also been disappointing, but the final two races took place in bright Autumn sunshine and a light but chilly northerly breeze. RO Peter Wright set a short windward/leeward course from Kip Marina entrance up to the Lunderston Bay mark, and provided some interesting racing for those on the water, dealing with tide and wind shifts along the shore.
Craig Anderson's 'Cool Bandit 2' saw off the other Moody 336 competition in both races, to win the Handicap Class Series, and the overall prize. A strong performance from Ben Shelley in his Extrovert 'Lady Ex', gave him second place in both races, and second in the Series.
Colin MacDonald's Etchells, 'Richochet' saw off the challenge from Rod Stuart's 'Ataraxia' for two wins and the Series prize in the Etchells Class.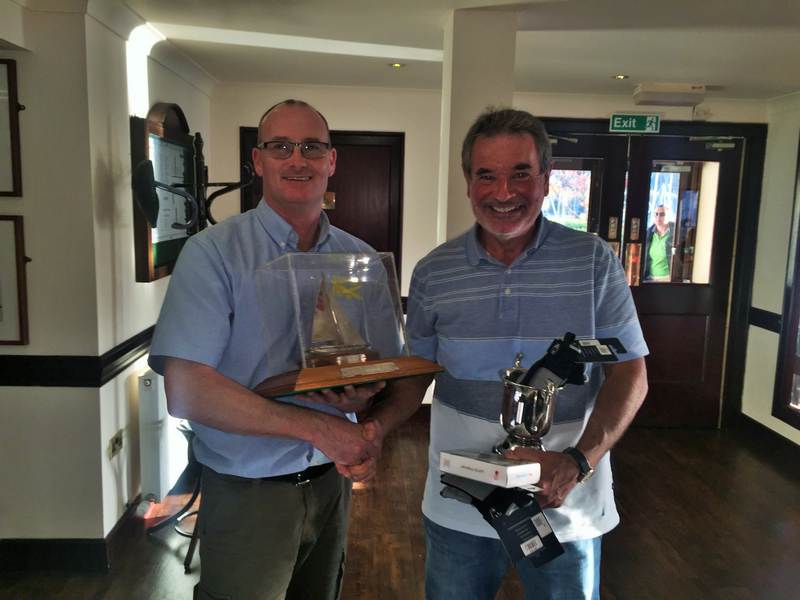 Craig Anderson receives his Class Winner and Overall Winner's Trophies from Heath Gairns of Kip Marina
Many thanks to our Series Sponsors, Largs Yacht Haven, and Kip Marina, and to Race Officer Peter Wright for his expertise and time.