The 2018 Autumn Points Series concluded today in glorious weather conditions. Clear blue skies and a steady, if light, northerly breeze of 7 to 9 knots.
With the C mark conveniently situated into wind, RO Peter Wright was able to set three windward/leeward races along the Largs shore.
In Class 2, Mark Bradshaw's Sigma 33 'Busy Beaver' withstood a strong challenge from Ben Shelley's Extrovert 'Lady X', with 'Busy Beaver' edging it with two firsts to 'Lady X's' one. This was enough to give Mark victory in the Class by a single point.
A first, a second, and a third was enough for Peter Judd and Andy Holmes 'Lock n Load' to achieve a four point margin of victory in the Etchells Class. The Race Academy's 'Extravaganza' finished off an impressive Series in second place.
The Overall Winner's Trophy was awarded to 'Lock n Load'.
Many thanks to our sponsors, Kip Marina and Largs Yacht Haven, and to Largs Sailing Club for their hospitality.
Overall Winner – 'Lock n Load' The Holt Trophy
Class 2 Winner – 'Busy Beaver' Largs Yacht Haven Trophy
Etchells Winner – 'Lock n Load' Marion's Chalice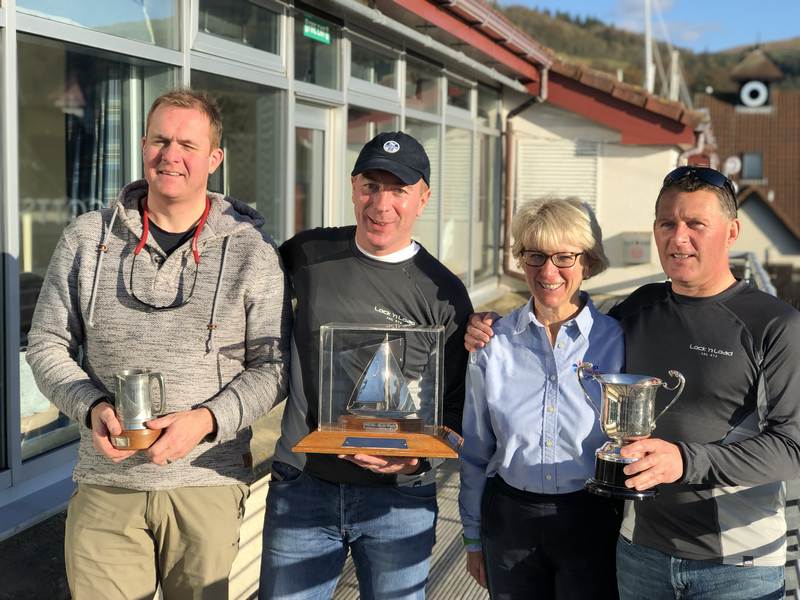 Mark Bradshaw Andy Holmes Carolyn Elder Peter Judd